We have a Chaplaincy Team which works to develop our liturgy and share it with you. It also aims to involve the different cultures in the school and improve home, school and parish liaison. Mrs Ward promotes an "open door "policy in order that all families feel a sense of welcome and belonging.
Our Lay Chaplain is Mrs Mary Ward
In school, masses and liturgies allow us as a community to celebrate the key events within the Church's liturgical year. Each of the school's values are made a focus for each half term with these key liturgical events in mind. For example, love is a focus for Advent as we remember that God loved us so much He sent His son. Forgiveness is the focus for Lent and is also the time when our Year 3 children are preparing to receive the sacrament of Reconciliation for the first time. Our value during the Pentecost season is Hope.
Parish links
The school works in partnership with several parishes across the Deanery of Bedford. We have a number of parish priests who give up their time to celebrate Mass including Fr Wayne, Fr Roy and Fr Gregory who sit on our Chaplaincy team. This team consists of teachers, teaching assistants and local parishioners who take an active interest in youngsters' faith formation. Fr Wayne from Holy Cross/SS Phillip and James who also spends time with each class as we go through the year.
The school works closely with parishes in preparing our children for the sacraments. After the children have received Holy Communion for the first time in different parishes across Bedford, they are invited to dress up once again and celebrate their Holy Communion Mass in school. This is always a special occasion and parents are invited along to join the celebration.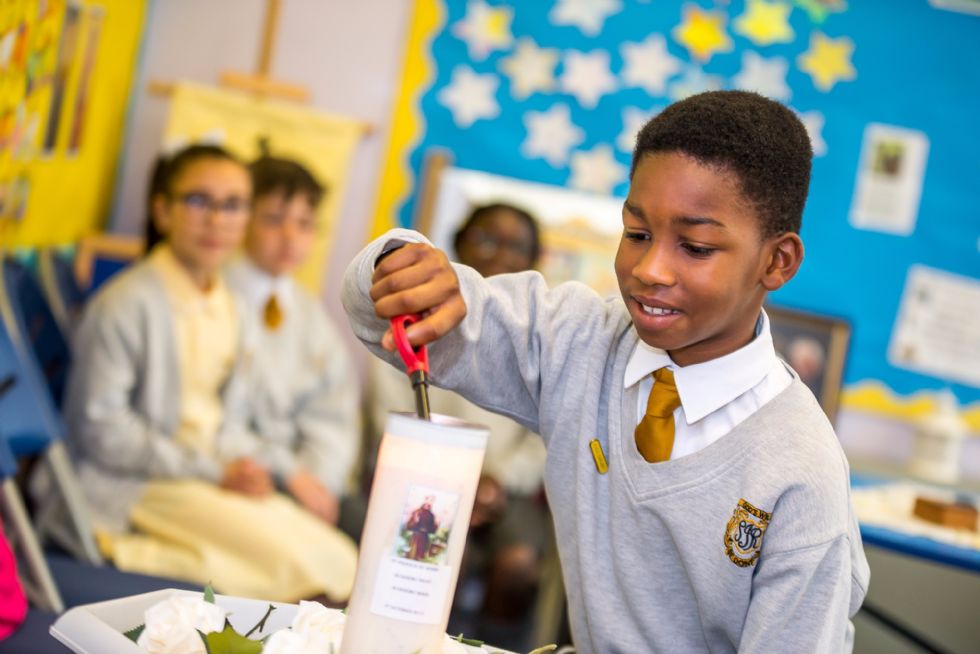 We are always keen to invite parents to many liturgical celebrations. Mrs Ward facilitates several parent prayer meetings throughout each term which take place in our Hosanna Room. Parents are also invited to year group liturgies which are often seen as highlights of our school year.
The school works closely with a number of Christian organisations across Bedford including the "Impact" team whose "Open the Book " assemblies, "Christian Lunch Club" and "Easter experience" are well received by the children.
Junior Chaplaincy Team
The school also has a thriving Junior Chaplaincy team with many youngsters working as ambassadors for their faith. Members of this team, regularly lead prayer and worship across the school in a number of ways and also carry out key roles from such as reading and altar serving.
Many of our children's fondest memories arise from the way in which the team encourages all to have fun in learning about their faith. In order to do this, the Chaplaincy team arranges regular events such as the Sion Fun Day, visits from the Marian Youth Missionaries, joint pilgrimages to Walsingham with our partner organisations and a variety of fundraising activities for organisations that are close to the heart of our families.
Finally, Mrs Ward has developed a team of staff who are committed to working alongside our children who face challenges. Many of these staff are trained to facilitate the "Rainbows" and "Sunbeams" programmes which offer support for children who face difficult circumstances including bereavement and loss.
We believe that as a Catholic School it is our mission to provide the highest quality pastoral care and chaplaincy for our community. Our Chaplaincy provision was rated "outstanding" on our last Diocesan Ofsted report (July 2014).