Please click on the links below for further information about the national curriculum:
Art
Art is often linked to work in History and Geography as well as being taught as a subject in its own right. During their time at school, the children develop their practical skills in Art through using a range of materials and media; this includes the opportunity to use different types of paint, make sculptures in clay or recycled materials, explore a range of printmaking techniques, create collages and develop their drawing and mark-making skills using crayons, pencils and pastels.
The children learn about both famous artists from history – this helps them to develop an understanding of the role of artists, designers and craftspeople and an awareness of range of artistic styles. They also look at a variety of artefacts within their topic work. Evaluation and Critical Analysis are key lifelong learning skills that are developed through Art.
Computing

Computing, formerly known as ICT, is taught each week by the class teacher. The children are taught in the Computer Suite but also use the 60 mobile laptops that are available across the school. We provide exciting and relevant project-based series of lessons that help children develop skills in finding things out, developing ideas, making things happen, programming, bug fixing, exchanging and sharing information.
Children develop their programming skills first by using floor turtles and then by progressing onto computer based packages such as Logo, Flowol, Lego Mindstorms, 2DIY or Scratch.
All children have a year group log-in so are able to store any work they have completed on the school network. E-safety and safeguarding online is extremely important so the first lesson of each term is based on E-safety. In addition to the use of the laptops and PCs, some children have access to Ipads and DVCs which are used in subjects across the curriculum.
Design and Technology

Design and Technology (DT) aims to prepare children to take part in the development of tomorrow's rapidly changing world. It encourages them to think creatively and to solve problems, as part of a team or as individuals. It enables them to identify needs and opportunities and to respond by developing ideas and eventually making products. One of the key values of DT is that it provides an opportunity for children to develop an understanding of technological processes, products, their manufacture and application, and the contribution of technology to our society. Most importantly, DT is a fun and exciting subject which allows the children to express themselves and their ever inventive ideas!
In Early Years, DT is part of children's creative development. They learn to handle tools, objects, construction and malleable materials safely and with increasing control. The skills of creating with a purpose, designing to make, evaluation and critical analysis are an integral part of the KS2 curriculum. At Key Stages 1 and 2, DT is developed as part of our creative curriculum i.e. linking to other curriculum areas.
English

At St John Rigby we believe that Literacy is the key that opens the door to all learning. It provides us with the opportunity to: express our feelings and emotions, explore our views and opinions and to investigate and become more knowledgeable in all aspects of what we learn.
As a school we use the Statutory Framework for the Early Years Foundation Stage (EYFS), the Literacy Framework and our assessments to personalise learning.
Phonics
Phonics is taught through 'Letters and Sounds' from Early Years through to Key Stage 2, where it is used to support individuals and groups. Spellings are set for home learning on a regular basis from Year 1 through to Year 6. In addition, children are encouraged to learn the high frequency words/sight words as appropriate for their year group. Lists of these and links to websites where these can be practised are posted on the itslearning VLE.
Reading
Our reading schemes include:
Dandelion Readers, Oxford Reading Tree, Ginn, Collins, Heinemann and Longman.
We employ a variety of teaching approaches and strategies so that each child will:
• Enjoy a variety of text types.
• Read fluently and with understanding across a variety of texts.
• Decode using textual clues and employing the "Letters and Sounds" methodology.
• Benefits from relevant interventions identified as necessary.
• Visit the school library once a week and be helped by the School Librarian.
• Be assisted in choosing books appropriate to their needs and of interest to them.
• Have opportunities for independent, guided and shared reading.
• Have a Reading Record in which they can record information about their reading in and out of school.
• Use their reading to inform their writing and speaking and listening work.
• Be aware that texts are produced for a variety of audiences and purposes.
• Read for different purposes, including for pleasure and research outside school.
• Reflect on their reading development.
• Enjoy a text rich environment that caters for all, including meeting writers.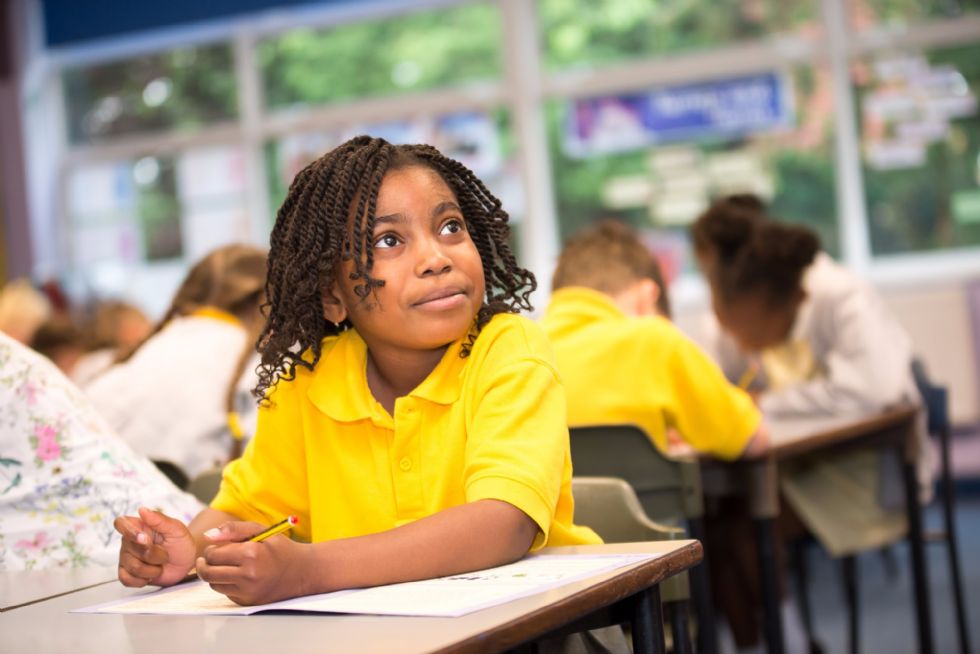 Writing
We employ a variety of teaching approaches and strategies so that each child will:
• Know that writing is different to speaking.
• Recognise that all writing should have a clear purpose.
• Write for a range of real or imagines purposes.
• Write in recognisable genre and text types.
• Have opportunities to take part in independent, shared and guided writing.
• Have at least one opportunity a week for extended writing.
• Use 'models' of texts that they have read and scaffolds to guide their own writing.
• Write clearly and legibly adopting the school handwriting policy.
• Use a word processing package confidently.
• Spell accurately with the help of the Letters and Sounds methodology.
• Benefit from relevant interventions identifies as necessary.
• Articulate why particular choices have been made in any writing.
• Be able to identify and use appropriate text, sentence and word level features in their writing.
• Be reflective in their writing.
Speaking and Listening
We employ a variety of teaching approaches and strategies so that each child will:
• Communicate effectively by speaking with increasing confidence, clarity and fluency.
• Speak appropriately for a range of purposes and audiences.
• Think carefully and organise their thinking before speaking.
• Listen carefully and respond sensitively and appropriately to what they have heard.
• Be a reflective speaker and listener.
• Benefit from relevant interventions identified as necessary.
French

Every child in the school from Year 3 to 6 learns French and we use our own scheme of work. Lessons are lively and the focus is on developing speaking and listening skills. Many games, songs, rhymes and actions are used to help children learn. Children learn greetings, numbers, colours, fruits and the names of some animals.
As children move through the school, they start to learn some simple rules of grammar and should, by the end of Year 6, be able to construct sentences of their own on a wide variety of topics including food and drink, life at school, family members, places around the town and sports.
History and Geography
Our school has a cross-curricular approach to the teaching of History and Geography. Each half term, a new topic is introduced and the children experience this in not only topic lessons but Literacy, Science and Art. The children will go on trips to reinforce and further their learning throughout the year and they will use a variety of resources and different software packages to aid their learning within school.
From Early Years to Year Six, children will gain a deep knowledge and understanding of a variety of topics.
In History, they will learn about the Great Fire of London, the Tudors, Egyptians, Romans and World War II. These topics encourage historical enquiry skills and an understanding that the past has shaped the present.
In Geography, they develop their enquiry and knowledge skills in numerous topics, such as Coasts, An Island Study, Our Local Area, and One World.
Music

We provide the children with rich, stimulating musical experiences to encourage their appreciation of the subject.
We have varied curriculum activities including singing, percussion and listening to all types of music. The children also have the opportunity to learn how to read music, understand pitch, rhythm, dynamics and composition. Peripatetic tuition is available in violin, cello and woodwind.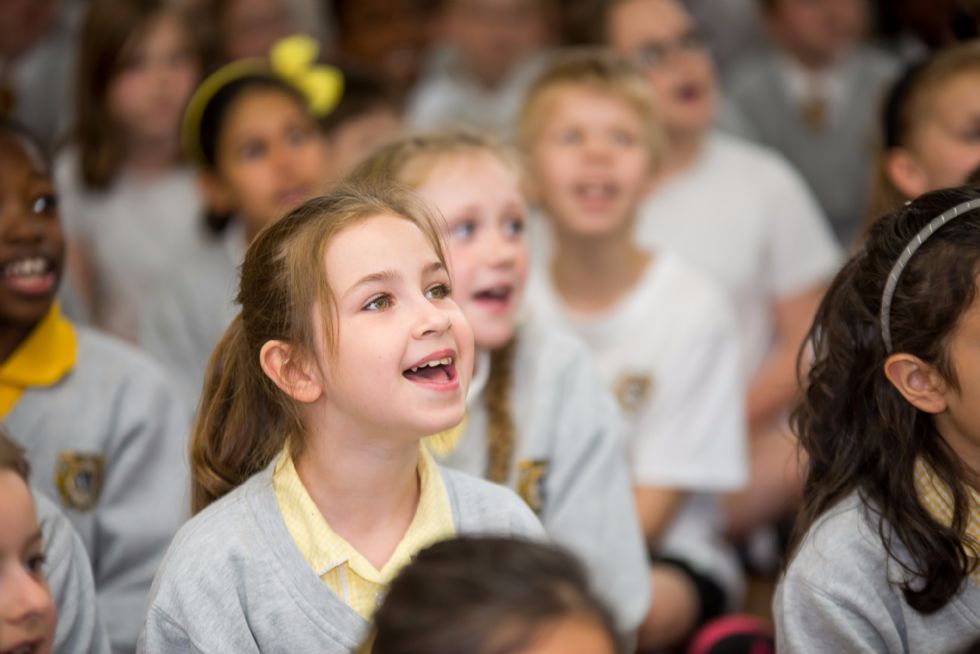 As a school we work closely with the Bedford Borough Music Service to provide music learning opportunities within other areas of the curriculum and Year 4 also participate in the inter-schools "Sing Up" programme each year.
We have a wonderful school gospel choir and a percussion group that perform at events both in and outside of school. All children attend a weekly hymn practice which gives them the opportunity to sing both traditional and modern hymns.
Numeracy

Mathematics introduces children to concepts, skills and thinking strategies that are essential in everyday life and support learning across the curriculum. We teach the children in our school how to make sense of the numbers, patterns and shapes they see in the world around them, offer ways of handling data in an increasingly digital world and make a crucial contribution to their development as successful learners. Studying mathematics stimulates curiosity, fosters creativity and equips children with the skills they need in life beyond school.
We aim to provide the pupils with a mathematical curriculum, which is exciting and practical as well as theoretical, that will produce individuals who are creative, resilient, inquisitive, enquiring and confident.
We recognise the importance of establishing a secure foundation in mental calculation and recall of number facts before standard written methods are introduced. By following our school's own calculation policy, we endeavour at all times to set work that is challenging, motivating and encourages the pupils to talk about what they have been doing.
Through tracking, formal assessments and teacher observation, we constantly look at ways of supporting our less able learners and extending and challenging our more able and gifted mathematicians. We believe it is very important for all children to be taught Mathematics at their level and to be given challenging activities that will foster independence in their approach to tasks as well as developing investigative skills.
We welcome parent support in this area and publish booklets as well as offer information evenings in order to ensure that there is a shared understanding of the different methods that are used at each stage of the child's development.
PSHE

We have a broad and a balanced PSHE Curriculum that incorporates elements of relationships, personal identity, behaviour and health & safety education. We aim to make our children confident, active, global citizens aware of their rights and responsibilities.
As a school, we follow the SEAL scheme of work. This is age appropriate and differentiated for each class. Topics are centred around relationships and empowering children to make positive choices. The curriculum builds upon previous learning and as a school we adapt the scheme to suit the needs of all our children.
Physical Education

Children are taught in two one-hour PE lessons each week by the class teacher and by specialist sports coaches provided by Premier Sport. They develop the children's skills, knowledge and understanding of sport and exercise through games, dance and gymnastic activities. The children receive a balance of these three key areas throughout the academic year but ultimately all areas link together to provide the children with a well-rounded curriculum. Through these lessons, they are also taught the importance of health and fitness and the effect exercise has on their bodies.
In Early Years and Key Stage 1, children develop a foundation of basic skills they can then build upon throughout their time at school. In Key Stage 2, these skills are developed further in order to be used in competitive situations. The children also begin to learn rules and sporting etiquette.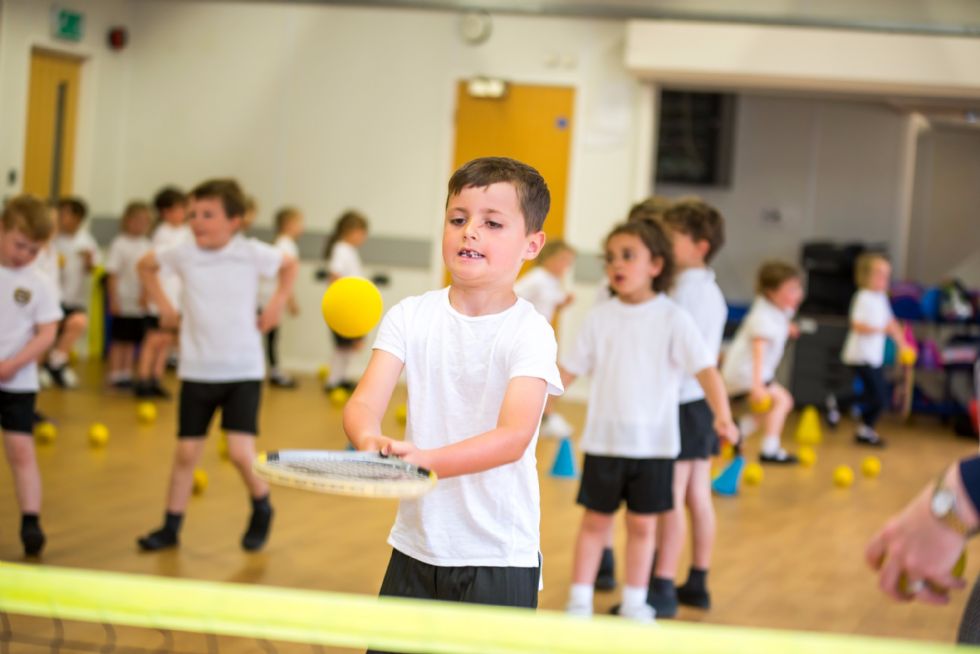 Children become familiar with a range of equipment through taught lessons such as gymnastic apparatus, athletics equipment including hurdles and javelins and tennis rackets and nets for all ages.
Children are given many opportunities to build upon skills learnt in PE lessons and to apply them in a range of extra-curricular activities. We have a history of producing successful sports teams and children can represent the school in competitions and festivals in boys' and girls' tag rugby, athletics, rounders and cross-country.
In KS2, children take part in outdoor adventurous activities and swimming.
Religious Education

RE at St John Rigby is central to the life of our school and aims to teach children about the greatness of God which is discovered through the Bible and particularly through the life and teachings of Jesus. Children will learn about the teachings of the Church, of the lives of saints, the importance of the sacraments and of prayer, and will develop the relationship between their own lives and their faith.
'Come and See' is the current Primary RE syllabus, which is implemented throughout the Diocese.
Through a process of 'Explore', 'Reveal' and 'Respond', core themes of The Church, The Sacraments and Christian Living are covered throughout the year and are divided into nine study topics: Family, Belonging, Loving, Community, Relating, Giving, Serving, Inter-relating and The World.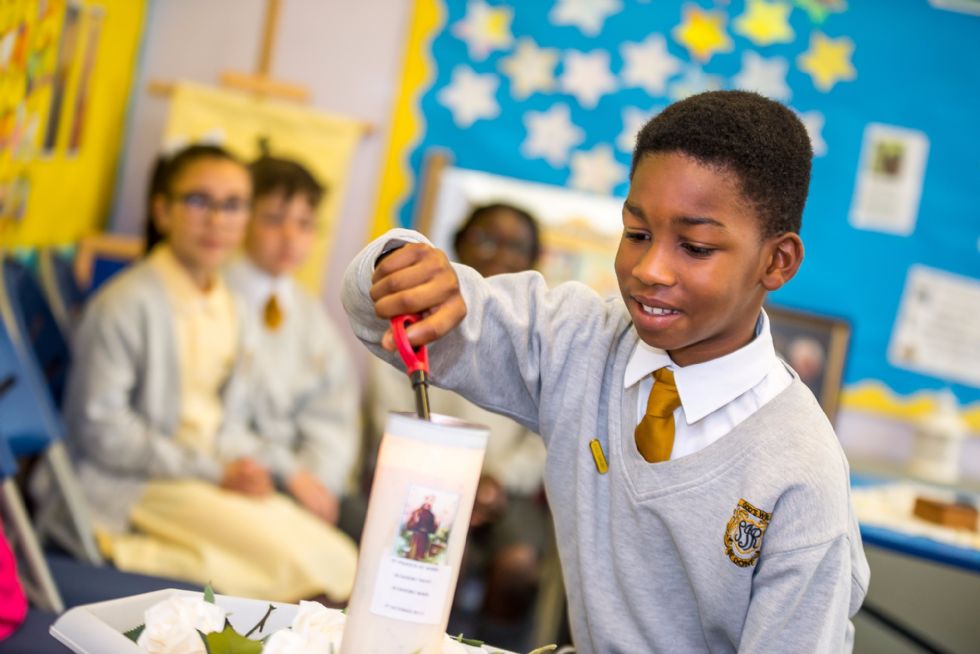 Each year group will then approach and develop the topics in a different, age appropriate way to understand how they relate to the core themes. This process will last for four weeks.
Week 1 – EXPLORE - The topic is introduced and life experiences are explored and reflected upon.
Week 2 and 3 – REVEAL - Knowledge and understanding of the Catholic faith is revealed through scripture, tradition, rites, prayers and Christian living.
Week 4 – RESPOND - learning is remembered, celebrated and responded to in daily life.
Children's religious learning is developed through scripture and stories, through discussion and questioning, through research, shared and personal experiences and through music, art, drama, dance and ICT. RE is closely linked with the PSHE curriculum.
Daily prayer and worship are integral to life at St John Rigby. Masses, assemblies, meditations and charity work are part of our lives throughout the liturgical year and we welcome many visitors to help us on our faith journey.
Our pupils will learn about the customs and beliefs, the stories, the holy books and places of worship of other World religions giving particular attention to the understanding of the Jewish faith. This includes the organisation of multi-faith visits to other places of worship.
The planning, delivery and assessment of Religious Education is carried out by class teachers which is overseen by the subject co-ordinator and is in-line with direction given by the diocese to ensure all pupils progress in the skills, concepts and attitudes needed to learn about and learn from religion.
Science

In Science, children build their knowledge about living things, materials and physical processes in the world around them. Using resources relevant to their everyday lives, they observe explore and carry out problem solving activities.
As well as learning about scientific phenomena, pupils spend much of the curriculum time developing their scientific investigative skills in which they ask questions and investigate them. They test their ideas and communicate their findings to others. Children learn to ask questions, make predictions, develop methods of working (including choosing which factors to change and keep the same), choose equipment, record results, draw conclusions and suggest how their investigations might be improved. These skills are often developed using our Topic work, for example, Year 1 look at Woodland, Year 2 look at Healthy Eating through "Yum Yum", Year 5 discover Space and the Solar System and Year 6 look at Survival and scientific inventions associated with the Victorians.
The school has extensive grounds to use to learn about scientific processes and living things. The curriculum involves visits and visitors, including to our Science and Engineering days. We also have active links with St. Thomas More who provide Science enrichment days teaching for KS2 pupils.