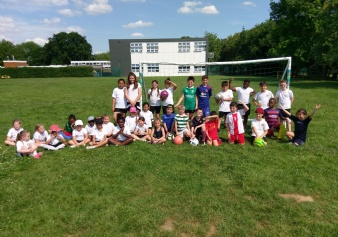 With the SATs over, St. John Rigby Year 6 children and staff have got together to develop their creativity and enterprise as they enjoy their final weeks at the school before moving onto pastures new. All Year 6 children are involved in the "fiver challenge", a national young enterprise scheme. Children arrange themselves into teams of no more than six. Each team is given a shiny new plastic five-pound note and is challenged to make as much profit as possible using as many fundraising initiatives as they can. This year, the children have focused their attention on leading and coaching younger children in sport.
"Our Year 6 children organise everything" said the Year 6 teaching team. "For example, the football training is professionally planned with sessions on passing, shooting...everything! When the session is over, replenishments are sold to children and parents in the form of drinks, popcorn and cakes".
"The main purpose is for children to be enterprising and to have fun." said Mr. Palmer, Headteacher. "There are some future "Apprentice" contestants in our ranks, without a doubt!"