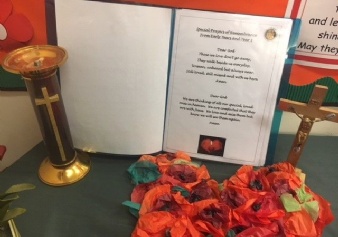 Remembering our precious loved ones during the month of November
On Wednesday 8th November, pupils from Years One to Six came together to ask God's blessing on our November book of remembrance. Prior to half term, all members of our community were invited to record names or their dearly departed loved ones in this book.
Our Junior Chaplaincy team led our service. They began by talking to the children about how we remember those who gave their lives in war and conflict. They talked about the significance of the poppy, the work of the Royal British Legion and the symbolism of the wreath and the cenotaph.
Members of the team then read many of the poems, reflections and prayers featured in the book. The children sang the Song of Farewell (May the Choirs of Angels) as all of the names of our deceased loved ones were projected onto the screen. You can view the book here. Click to expand and scroll through the pages:
This was quite an emotional scene. Mr Palmer reminded all those present that whilst we understand when people feel sad, we should also remember that our deceased loved ones are proud of us, their influence continues to shape us and we carry their spirit in our hearts as we go about our daily lives.