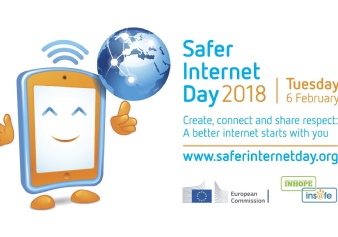 ACTIVITIES HAPPENING ACROSS THE SCHOOL ALL WEEK
St John Rigby is delighted to be celebrating Safer Internet Day with a variety of activities taking place across the school all week.
Ms Diemer conducted a launch assembly on Monday 5th February for Years 3 – 6 and special assemblies will take place on Thursday for our younger pupils. Miss Diemer spoke to the children about how quickly the internet and social media has developed over the last decade. The children were quite taken aback when they saw examples of mobile phones and laptops from the early noughties. Nobody had a touch screen!
She went on to talk about the importance of safe passwords as well as the importance of checking privacy settings when sharing photos. The children then watched CBeebies version of a One DIrection hit which reinforces these points perfectly.
This year the key messages in lessons are:
 The key ingredients to being happy and good about yourself online  How to be a good friend online
Teachers will be working with the children in lessons looking at various scenarios that will reinforce these points above.
We are also liaising with PC Denton (Beds Police Schools Liaison Officer) to set up a parent workshop after Easter where parents can learn more about how to support their child online and ensure their safety. All parents will be informed of the workshops once dates are finalised. Dont forget that our December newsletter includes our first e-safety newsletter section. A copy for download can be found below. In the meantime, many schools are showing this excellent CEOP presentation to illustrate the importance of having a safe social network profile.