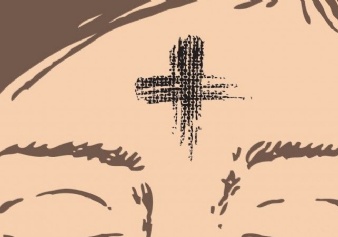 Ashes distributed by Junior Chaplaincy Team
This year, with Ash Wednesday falling during half term, our Diocese has encouraged our schools to work with partner parishes to ensure that ashes are distributed to all. With the support of Fr. Wayne Coughlan, parish priest at Holy Cross and SS Phillip and James, who provided ashes, our Junior Chaplaincy team were on hand to distribute ashes to the whole community.
In his pastoral letter to mark the start of Lent, Bishop Peter talked about how the distribution of ashes was a particularly special occasion as it was something that all members of the community could participate in regardless of their own faith background. As you will see from the video below, all members of the SJR community were able to join in and their own prayerfulness and reverence during this service made this inclusive occasion very special. As the sign of the cross was traced on the forehead, we were reminded during Lent to turn away from sin and be faithful to the gospel.