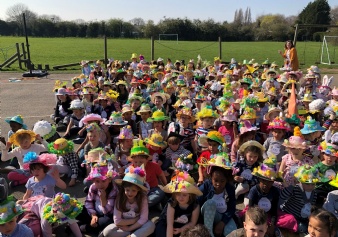 A colourful array of fantastic Easter Bonnets were on display last week in school
We were delighted with the response to our Easter Bonnet competition last week at St John Rigby!
Students across the school went to great efforts and we were thrilled to showcase every single one in a special Easter Bonnet Parade in the sunshine.
Winners will be picked from each class and announced at our Easter Assembly in the last week of term.
A big thank you to everyone who took part and to all involved in organising the event.