'Sing unto the LORD, O ye saints of his, and give thanks at the remembrance of his holiness.' Psalms 30:4
Within our curriculum, through the drivers of FLAME, we encourage our pupils to develop their faith formation and consider inspirational people who have made a positive contribution. With this is mind, classes at St John Rigby are named after saints, allowing our children to learn about the lives of inspirational saints and understand their role as people who followed Jesus Christ, living their lives according to His teaching.
Reception: St Francis of Assisi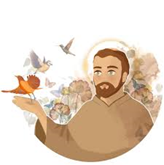 Saint Francis of Assisi was a Catholic friar who gave up a life of wealth to live a life of poverty. He was born in Assisi in Italy where a large basilica was built in his honour and. He is known for his ministry to the poor and underprivileged, and is the founder of the Franciscan Order.
He believed "A man who works with his hands is a worker; a man who works with his hands and his brain is a craftsman; but a man who works with his hands, his brain and his heart is an artist."
One day while riding through the countryside, Francis, the man who loved beauty and who hated deformity, came face to face with a leper. Repelled by the appearance and the smell of the leper, Francis nevertheless jumped down from his horse and kissed the hand of the leper. When his kiss of peace was returned, Francis was filled with joy. As he rode off, he turned around for a last wave, and saw that the leper had disappeared. He always looked upon it as a test from God...that he had passed. Francis really loved nature and all God's creations, thinking of them as part of his brotherhood.
Patron Saint of Animals Feast day is October 4th
Year 1: St Therese of Lisieux
Saint Therese of Lisieux was born Marie Francois Therese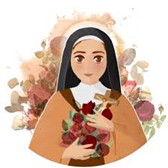 Martin. She was born on January 2, 1873 in Alencon, France.
Therese is most known for her "Little Way." She spoke not of doing great things, but of small things with great love. She saw herself as a child who lived in complete dependence on God. Therese acknowledged her littleness and believed this showed more clearly God's greatness. Therese saw herself as a tiny flower in the garden of God and believed His power shone more clearly through her weakness. Saint Therese believed that is not the greatness of what we do that matters, but the love with which we do them. She inspires us to live in simplicity and put love at the forefront of daily life.
Patron Saint of Priests and Missions Feast Day is October 1st
Year 1: St Mary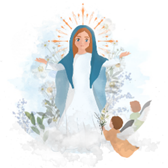 Mary the Mother of Jesus.
Mary was an important part of God's plan to bring Jesus, Our Saviour, into the world. The Mother, of God, Mother of Jesus, wife of St. Joseph, and the greatest of all Christian saints, Mother Mary has the main events of her life celebrated as liturgical feasts of the universal Church.
She possesses a unique relationship with all three Persons of the Trinity, thereby giving her a claim to the title of Queenship. She was chosen by God the Father to be the Mother of his Son; God the Holy Spirit chose her to be his virginal spouse for the Incarnation of the Son; and God the Son chose her to be his mother, the means of incarnating into the world for the purposes of the redemption of humanity. In art, Mary is traditionally portrayed in blue. Her other attributes are a blue mantle, crown of 12 stars, roses, and/or a woman with child.
Patron saint of all Human Beings, especially Young Children Feast day is January 01st
Year 2: St Bernadette
Saint Bernadette Soubirous was a fourteen-year-old peasant girl,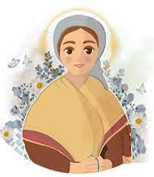 poor, simple and uneducated. She was from Lourdes, France.
She was chosen to give the message of love God has for all mankind "as the adopted children of His Blessed Mother." Bernadette had the experience of eighteen apparitions of Our Lady in the Grotto of Lourdes. Even after this singular experience Bernadette continued to experience suffering. She was ridiculed, her experience of the apparitions was questioned, and she was even threatened with imprisonment.
Patron Saint of Illness and the Sick Feast day 16th April
Year 2: St Teresa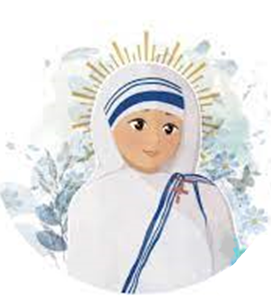 Mother Teresa, also known as Saint Teresa of Calcutta was born in Uskub, Ottoman Empire. At the age of eighteen, Sister Teresa went to the convent school of the Sisters of Loreto in Calcutta, where she taught for almost twenty years. During her years teaching, she became disturbed by the poverty that she saw.
On September 10, 1946, Sister Teresa experienced "the call within the call." saying "I was to leave the convent and help the poor while living among them. It was an order. To fail would have been to break the faith."
Teresa ventured into the slums, founded a school and began caring for the poor and the hungry. Teresa dedicated her life to serving "the poorest of the poor."
Patron Saint of The Poor and Missionaries of Charity Feast day September 05th
Year 3: St Cecilia
When Cecilia was young, she was forced to marry against her wishes. She was said to have heard heavenly music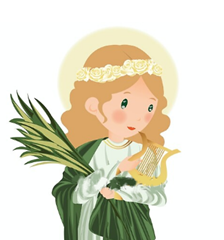 inside her heart during her wedding as she sat and sang to God.
She spent her time preaching and in her lifetime was able to convert over four hundred people to the way of Christ. Cecilia was later arrested and condemned to be suffocated in the chambers. She was shut in for one night and one day, as fires were heaped up and stoked to a terrifying heat - but Cecilia did not even sweat. When Almachius heard this, he sent an executioner to cut off her head. The executioner struck her three times but was unable to decapitate her, so he left her bleeding - she lived for a further three days.
She was fearless in the face of death, trusting in the Lord's plan as she sang to Him again. By her example, she reminds us that we should always be examples of our faith for others.
St Celia is often shown sitting serenely, holding a palm – the symbol of her martyrdom – in one hand and organ-pipes or a sheet of music in the other.
Patron Saint of Music and Poets Feast day is November 22nd
Year 3: St Joseph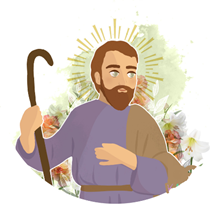 St. Joseph was the husband of Mary, the mother of Jesus. He is said to have been selected by God for this role because he could be trusted to watch over them and would work hard to provide for his family. According to the earliest Christian traditions, he was a carpenter or woodworker.
The Gospel of Matthew calls him a "righteous man," meaning he was an observant Jew who obeyed God's law. Although Joseph is referred to in the Bible, he doesn't actually speak any words but is often referred to as Saint Joseph of Nazareth. Joseph faithfully served the Holy Family and protected them from danger so that they could fulfil God's mission.
St Joseph has many feast days – The whole month of March is also dedicated to Saint Joseph as he was declared to be both the patron and the protector of the Catholic Church.
Patron Saint of Workers Feast Day is March 19th
Year 4: Blessed Carlo Acutis
We do not need to travel far back in time to get to know Carlo Acutis. Getting to know him on two levels, you would see that from outward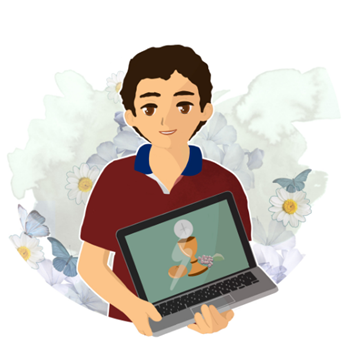 appearances, he was a handsome teenager living an ordinary life like many of his Italian friends. On a deeper level, Carlo was a very special young man with an interior spiritual life that surpassed anything that one would expect from a young man in the 21st century
Blessed Carlo Acutis was born on May 3, 1991 in London, United Kingdom to Italian. From a young age, around 3, he demonstrated great interest in Catholic churches and often asked to see them. He loved to play with his PlayStation, he enjoyed eating, he talked a lot, being quite a class clown and amusing his friends with his cartoons.
He was aware of the need to use time well. He was concerned about the environment and was also known to give away his pocket money to the poor and to speak up in defence of people who needed help, often defending friends with special needs who were being bullied, or offering support to friends with family problems.
Carlo Acutis who died from leukaemia at the age of 15 is now on the path to sainthood. He was declared Servant of God in 2016, and on the 10th October, was beatified and declared Blessed.
Carlo's example offers a roadmap to young people wondering how they can live holy lives in this day and age and that God makes saints of every generation.
Patron Saint of Computer Programmers and the Youth Feast day is October 12th
Year 4: Saint Josephine Bakhita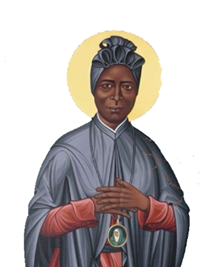 Saint Josephine Bakhita is an inspiring Saint with a tragic story. She was born in Sudan, Africa around 1869. Her early childhood was a happy one. However, when she was eight, she was kidnapped by slave traders! From then on she was called Bakhita, meaning "fortunate one". She was sold many times during the next twelve years. Some of her masters were nice, but some were very cruel.
One of her mistresses had to travel to Sudan, but decided not to take Bakhita with her, leaving her with the Canossian Sisters in Venice. During this time, the sisters taught Bakhita about God and she decided she wanted to enter the Church. Slavery had been outlawed and because of this, she was freed and was no longer a slave!
Bakhita decided to remain with the sisters, and she was baptised on January 9, 1890. During the following forty-two years, she served as a cook and a doorkeeper. Sometimes, she travelled to other convents telling her story and preparing the sisters for mission work in Africa. Josephine was known for her gentle voice, her smile, and her gentle character.
Despite the terrible memories of her life as a slave, Josephine Bakhita still forgave those who were cruel to her. She said:
"If I were to meet the slave-traders who kidnapped me and even those who tortured me, I would kneel and kiss their hands, for if that did not happen, I would not be a Christian and Religious today…."
The life of Saint Josephine Bakhita should help us remember that every life is precious. It is often hard to love and forgive those who have hurt us. However, forgiving others out of love, will help us grow closer to Jesus.
Patron Saint of Victims of Modern Slavery and Human Trafficking Feast day is February 8th
Year 5: St Christopher
Saint Christopher is one of the most popular Catholic Christian heroes of the Faith. However not much is known of him other than people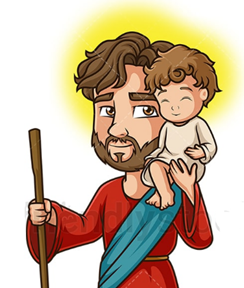 thought he was a giant -it is believed he was at least a big, tall, and strong man.
Christopher wanted to serve the greatest king on earth. So, he asked the local king who agreed. Christopher served him faithfully until one day he realised that this King had fear and was not the greatest ruler on earth. He left the service of the king and went to find the greatest ruler. Eventually, he met the devil who claimed to be the greatest ruler of the world. Again, Christopher served the devil faithfully. But one day as they passed a crucifix and the devil became afraid. He learned that the devil feared Jesus, and so he wanted to serve Him. He met a monk who taught Christopher all about the Catholic faith and baptised him. He told him he needed to find a way to serve Christ.
Christopher decided to go to the deep and treacherous waters of the river to help guide boats and people across the water.
One day a small boy showed up and asked Christopher to help him across. Christopher put him on his shoulders and started out across the water. About halfway, the child seemed to grow heavier and heavier. Christopher could barely get the two of them across the water. After reaching the other side, Christopher sat down to rest and asked the child why he became so heavy. The child told Christopher that He was the Christ child, and that as he carried the boy across the waters he was also carrying the burdens of the world that Christ always carry.
The name "Christopher" means Christ-bearer and helps us to consider that each one of us has the privilege of sharing the presence of Christ that dwells within us just as we remember him carrying and protecting the Christ-Child.
Patron Saint of Travellers Feast day is July 25th
Year 5: St Dominic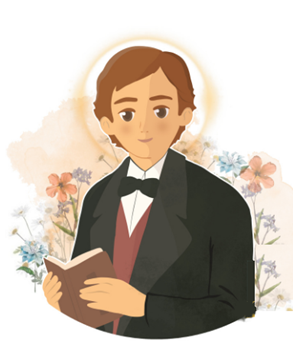 Saint Dominic was born in Caleruega, Spain in 1170. Whilst studying in Palencia, a famine hit the country leaving many people desolate and homeless across Spain. Dominic sold everything he had, including his furniture and clothes and bought food for the poor.
According to legend, St. Dominic received the Rosary during a period of prayer at the abbey in Prouille. This allegedly took place in 1214 during an apparition of the Virgin Mary - he is often credited with the invention of the rosary; it actually pre-dates him, but he certainly spread devotion to it, and used it to strengthen his own spiritual life
Dominic remained steadfast to his mission promoting justice and morality, being known as a result of his mercy and his works. He founded the Dominican order and began a period of travel that would continue for the rest of his life.
Saint Dominic is commonly shown in icons with a dog, or lilies, holding a book.
Patron Saint of The innocent who are falsely accused and Astronomy Feast day is August 08th
Year 6: St Peter
Peter was a married man, a fisherman from Bethsaida in Galilee. Jesus called him to be one of his closest followers, an apostle. He gave him a special mission, changing his name from Simon to Peter which means 'rock' because he was meant to be part of the foundation of God's Kingdom on earth.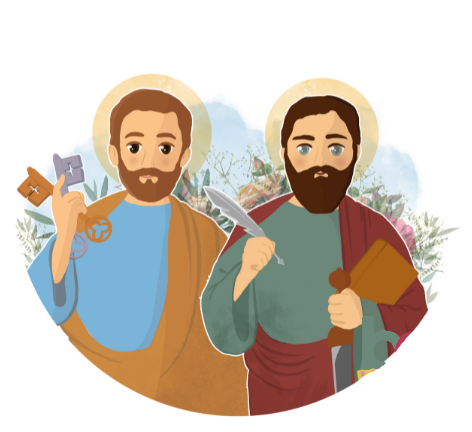 He was with Jesus during very important moments of His public ministry, as he travelled with Him in Galilee and Judea. He saw Jesus performing miracles, he heard him teaching the people about loving God and one another. He was with Him in the Transfiguration, at the Last Supper, in the Garden of Gethsemane. In spite of his close relationship with Jesus, he also denied knowing Him and seemed to be absent when Jesus died on the cross!
However, he was the first to witness the empty tomb after the resurrection and declared his repentance to the Risen Jesus, proclaiming his love for his Master, pledging his belief in Him. Jesus did not reproach him but He only asked Peter if he loved Him!
Jesus also gave him "the keys of the kingdom of heaven" and by the power of the Holy Spirit he was the first to preach about Jesus to the crowds at Pentecost! It is widely held that Saint Peter was the first Pope of Rome. He is believed to have founded the first Church in Rome and laid the foundation for all future Popes to come.
Patron Saint of Fishermen and Ship builders Feast day is June 29th (shared with St Paul)
Year 6: St Paul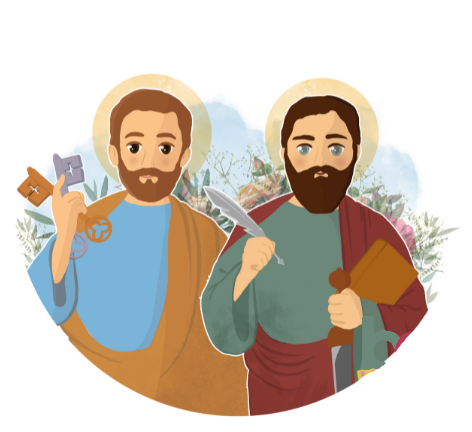 Saint Paul is one of the most important and influential of all the saints. Many of his writings are contained in the Canon of the Bible and have influenced the growth and development of the Church since the first century.
Paul was younger than St Peter. He was not a fisherman - his trade was making tents. He was an intelligent man, loyal and courageous. He was a leader dedicated to his mission of spreading the belief in Jesus Christ. That is why he is considered as an apostle even though he was not one of the twelve. He is considered as the greatest Christian missionary as he travelled from country to country around the Mediterranean founding Christian communities.
Quite often, St. Paul is connected to the concept of conversion, when from a Pharisee who persecuted the followers of Jesus, he himself believed in Him and pledged his life for Him. Paul's conversion was a transformation. His outlook changed when he 'met' Jesus on the road to Damascus.
His challenge was to convince the Apostles and Jewish Christians that non-Jews, known as gentiles, could be baptised without having to follow Jewish rules first.
He was the 'key' person who "built the bridge" between the Jewish religion of the Old Testament and the Christianity of the New Testament. His letters in the New Testament provide profound teaching about Christianity.
Patron Saint of Missionaries Feast day is June 29th (shared with St Peter)