ALL UNIFORM NEEDS TO BE LABELLED PLEASE
School grey V-neck sweatshirt with the logo (ONLY)
Gold polo shirt (logo optional)
Grey pinafore dress, grey skirt, with grey tights or grey socks and grey school trousers
Sensible BLACK school shoes
Years 5 and 6
School grey V-neck sweatshirt with the logo (ONLY)
White Shirt
Gold School tie
Grey pinafore dress, grey skirt, with grey tights or grey socks and grey school trousers
Sensible BLACK school shoes
PE:
White T-shirt (logo optional)
Black shorts
Black plimsolls or trainers
White socks (no tights to be worn for PE)
A plain dark tracksuit for outdoor sports
Summer Term Only
(The summer uniform is compulsory for Early Years - Year 4 and optional for Years 5 and 6)
Girls:
Yellow gingham dress - white socks
School grey cardigan with logo
Boys:
Grey school shorts - grey socks
Gold polo shirt (Early Years - Year 4)
White Shirt /Gold Tie (Years 5 - 6)
School grey V-neck sweatshirt with logo
(NO white or grey knitted cardigans or jumpers)
All uniform can be ordered on-line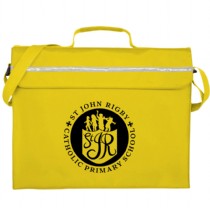 Book Bags
Reading Record Books
PE Bags
Water Bottles
EARRINGS:- Earrings are not to be worn in school. If you wish to have your child's ears pierced, this should be done at the start of the summer break so that they are ready for removal upon return in September.
Children with long hair have to have this tied back. Please ensure that all hair accessories are practical for school and are: yellow, white or black only. No hair braiding, extensions or coloured hair is permitted.