Important information for parents of students who cycle to school
Cycling is a great way of getting to school and can help keep students healthy and active, while making the school run more fun, reducing traffic congestion and helping the environment.
We encourage cycling to school as much as possible and ask that parents ensure that students are competent to negotiate hazards and understand how to stay safe on their journey.
It is the responsibility of parents/carers to ensure that helmets are worn and bicycles are roadworthy and in good working order, including the tyres, lights and brakes.
If your child wishes to ride their bike to school, it is important that they know how to stay safe whilst cycling to and from school. Here are some top tips:
Find an easy, quiet route.
Take a smooth, flat route if possible. Don't be put off by a less direct route compared to a busy, direct one.
Practise the route at the weekend first.
Take some time at the weekend to practise, explore different routes, and make sure you know where you are going and how long it will take.
Be prepared.
Mornings are a busy time, so spend some time the night before to prepare. Pack bags and leave helmets ready, so you can get up and go!
Have the correct safety accessories.
A white front light and red rear light (constant or flashing) and reflectors are legal requirements when cycling in the dark.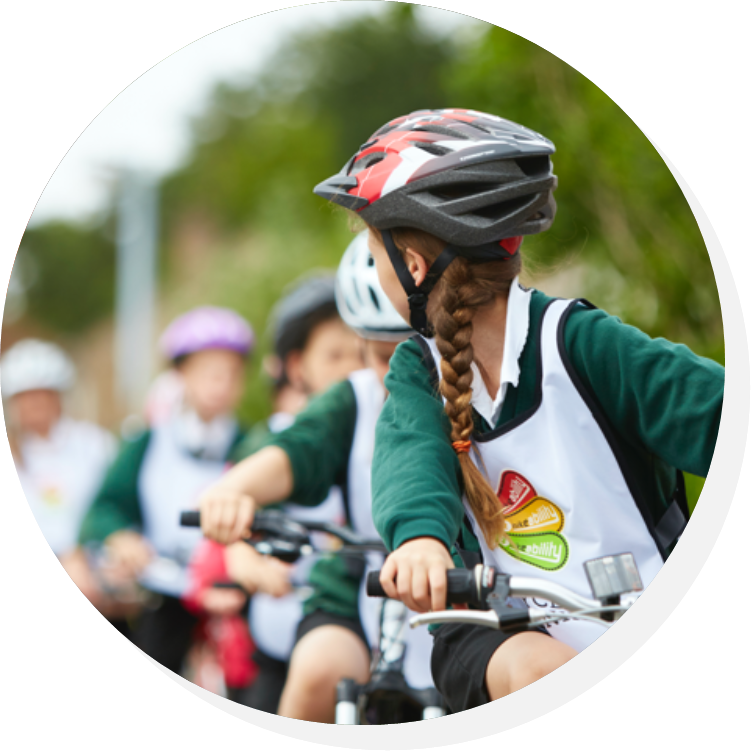 At St John Rigby we regularly hold Bikeability Cycle Training which equips children with vital life skills. Pupils not only learn to cycle, they gain independence, social skills and a sense of wellbeing.
Please contact the school office for more information about our next sessions.
FAQ
How is Bikeability arranged at my child's school? Bikeability cycle training for schools is funded by the Department for Transport, which is distributed via local highways authorities. Your child's school can get in touch with the local highway authority directly to find out more about funding in your area, if they are not already signed up.
Is Bikeability training free for? Most Bikeability training is free, thanks to funding from the Department for Transport. Some areas ask for an admin fee and you will be told this before training starts.
Can SEND schools take part in Bikeability? Of course! We work with SEND schools across the country and all of our instructors are SEND trained. .
Do you offer training for e-cycles or e-scooters? We don't currently offer training for e-cycles or e-scooters. You must be over 14 years old to legally ride an e-cycle. Read the latest government guidance for electric bike rules.
Privately owned e-scooters and electric skateboards cannot be used legally on the road or pavement. Some areas are currently running trials for the rental of e-scooters, but you must hold a driving license to use one.